Custom Electrical Repairs
24 hr electrician, have experience in custom electrical repairs such as oven, machines, imported electrical equipments. We do electronics components repair as well.
Experience in oven repairs, electrical oven troubleshoot.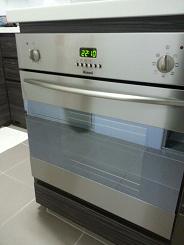 COMMON NUISANCE TRIPPING IN SINGAPORE DURING LIGHTNING
During lightning and thunderstorm, the electrical surge might enters your house through an electrical power line. The primary surge voltage may be large enough to cause high voltage spikes in the wiring and appliances. This sudden electrical surge might cause power fault or short circuit.
Circuit breaker and Residual Circuit Breaker installed or attached is to serve the purpose of protecting the electrical wiring and devices. A overcurrent is one of the possible cause that causes the current carrying conductor to melt that allowed to can start a fire. The circuit breaker senses this excessive flow of current and 'trips' or 'breaks' . However, the circuit breaker can be reset once this happens.
Is very common for your home to experience nuisance trip or electrical power trip. Not to worry, sometimes it may not be due to any electrical faults or danger. Simply because of over sensitive electical protective device. It is always good to have a more sensitive electrical protective device than having one that does not work!
Nuisance trips or electrical power trip are unexpected circuit breaker trips either caused by your mini circuit breaker (MCB) or earth leakage circuit breaker (ELCB), that breaks your main electrical supply.
Such electrical power tripping or nuisance tripping can be very intermittent, that happen once or twice a day. If such occurance happen in a consistent pattern, you would need to troubleshoot to identify the root cause of the problem. Even if it is nusiance power electrical trip, everything happen for a reason!
First of all, when you experience a power trip do not panic. There are 2 electrical circuit breaker that disconnect the power in your home. One is usually located in your store room or bomb shelter, the other one which most people do not know is located in the electrical riser beside the wattmeter. (see below). If problem still persists, call an electrician to help your diagnose the electrical problem.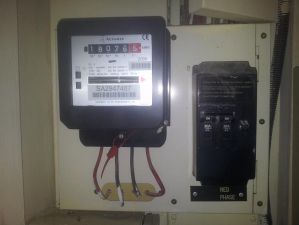 Electrical Safety at Home
1. Make sure your electrical appliance and electrical equipment (water heater switch, power socket, lighting switch) has a Singapore Safety logo
Low quality electrical could damage the electrical system in your house or even cause a fire.
2. Make sure all electrical cords are bundle and tucked away, neat and tidy.
3. Don't pull a electrical plug out from the socket, it will cause wear and tear to both the electrical socket and electrical plug
4. Keep electrical parts away from water and away from window. Most electrical accidents around the house happen when people use electricity near water.
5. If you are unsure, call a electrican to attend to your need. Do not try as current is invisible. Electricity is a good servant but a bad master!
Our 24 Hr Electrician Singapore Service all electrical needs across singapore. Our Electrician also provide free consultantion over the phone!
Ensure that your electrical system is properly installed accordance to electrical safety guideline. A common fault shown above is the multiple sharing of high current device and appliance(e.g. Aircon, heater, Oven, Dryer) from a single source that causes overcurrent and electrcial fault.
Trouble Finding Reliable Electrician in Singapore
It can be difficult to contact a quality and reliable electrician in Singapore but not anymore!
If walls need to hack or do any conceal wiring for outlets and switches require to be disconnected and moved Power Electrical Services electrician Singapore knows how to disconnect the power to certain wires efficiently and safely.
When the renovation has been completed, our Electrician in Singapore can rewire the outlets and switches and place them properly in the new location - just what you need from an electrician Singapore!
Power Electrical have built a reputation as outstanding electricians Singapore while operating with a deep understanding in the area of health and safety.
Why are we reliable? We provide 30 days on site warranty and 1 year warranty on parts.
These electricians in Singapore will ensure that all work is up to code and are a licensed domestic electrician Singapore comply to CP5 standard.
Electrical professionals have the training and experience behind them to manage any electrical job whether big or small. Power Electrical offers the services, assistance and reassurance of an electrical expert.

When a customer contacts an electrician in Singapore such as Power Electrical, you can be sure that experts in the field have been called out to help.
If you live in Singapore and need an electrician Singapore, call the top Singapore electricians at Power Electrical Singapore Electrical Services provides professional electricians Singapore to commercial business and homes. Each Singapore electrician is fully qualified, emergency electrician Singapore.
Remember, if you need the best in Singapore electrical services call Power Electrical - electrician in Singapore. If you are searching for a specific Singapore electrician, we are proud to operate Singapore wide in the following catagories among others:
Singapore electrical

Singapore electrical contractors

Electrical contractors Singapore

Electrical services Singapore

Electrical Singapore

Electrical Companies

Domestic electrical work

Electric Singapore
Ceiling Fan Repair
Before cutting any wires from your ceiling fan for repair, remember to write down what the original connections or take a photo of it. Write down exactly where each wire goes.
The easiest way repair a ceiling fan is to identify the exact model of your ceiling fan. And call the manufacturer for any information regarding the fan.
Ceiling fan repair is not very complicated, but first you need to know the pattern of the original switch and cannot find any information on it, you might consider disassembling the switch (after removing it from the fan, obviously) to see if you can determine the contact pattern.
Ceiling fan requires capacitor to regulate the speed. And in some older models (like 20yrs ago) the ceiling fan uses step down transformer to regulate the speed. And replacement parts for such ceiling fans are expensive.
At the same time you need to know the internal configuration of your capacitor (same capacitor comes with resistors connected in parallel. Ceiling fan capacitors often contain multiple capacitors in one package. If you do not know the internal configuration of your capacitor, you could make measurements to discover it. Capacitors store a charge even when not connected to anything. Thus you could get shocked even if the circuit breaker is off. Discharge the capacitor safely and verify that it is discharged (using a volt meter perhaps) before touching the leads with your hands. (With regard to measuring residual voltage on a disconnected capacitor, note that it would be DC.) Since fan capacitors may actually contain multiple individual capacitors in one unit, be aware there could potentially be voltage between any two wires until you discharge it.
Facts about Lightning
Lightning Protection System is as good as buying insurance. Is too late to install lightning protection system after the lightning strike!
Singapore has one of the highest lightining strike rate in the world. Singapore high humidity are favourable for the development of lightning producing thunderstorm clouds. Singapore have an average of 171 thunderstorm days (source www.weather.gov.sg) are recorded annually in Singapore.
Why the need for Lightning Protection?
The purpose of lightning surge protection of an installation against the risk of lightning strikes is to prevent the disturbing energy from reaching sensitive equipment. To achieve this, it is necessary to:
capture the lightning current or secondary transient current and channel it to earth via the most direct path (avoiding the vicinity of sensitive equipment);
provide equipotential bonding to the electrical installation
This equipotential bonding is implemented by bonding conductors, supplemented by Surge Protection Devices (SPDs) or spark gaps (e.g., antenna mast spark gap)
Two protection systems are used to eliminate or limit overvoltages: they are known as the building protection system (for the outside of buildings) and the electrical installation protection system (for the inside of buildings).
Electrician Singapore job covers the followings:
Electrician Singapore test and install wiring systems (lighting, security, fire) and equipment. Electrician also install ceiling fans, trouble shoot and repair ceiling fans
Maintenance electricians who test and maintain electrical equipment and often work in commerce or heavy industry, electrician check on 3 phase motors
Electricians design and construct electrical and electronic appliances from wiring diagrams.
Electrician in Singapore duties will depend on which electrical area to work in. Electrician could do re-wiring, power socket installation, laying cables, troubleshoot power failure, power trip, electrical protection testing, installing CCTV system in an office, water heater installation, Starhub SCV cable installation.
Singapore Electricians work hours are flexible as electricians often can't leave a job unfinished and there are usually last minute call electrician need to attend to power trip, short circuit, power failure.
Power Electrical work largely depends on the kind of electrician required by the customers.
Qualified electricians in Singapore are able to electrical installation for residential and commerical office. Qualified electrician will know the safety aspect of the earth protection system.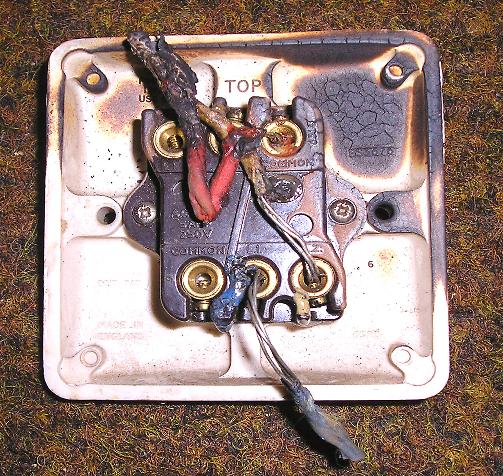 One of the very common household electrical fault in Singapore is overcurrent. It is usually caused by improper electrical wiring or using too many electrical points in one circuit that causes overcurrent. Electricians have to ensure the cables is within the current carrying capacity and avoid have too many electrical socket in one circuit. Especially for kitchen appliances.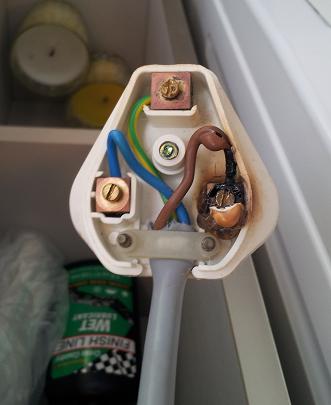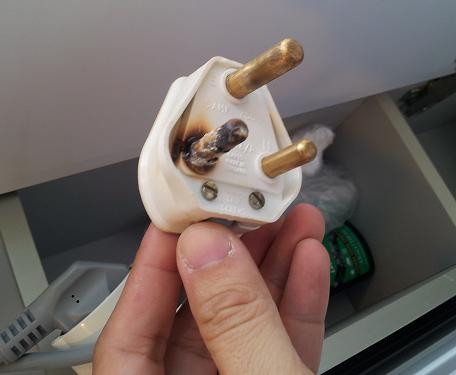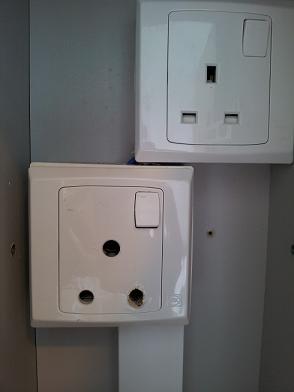 Electrical fault: 3 Pin Plug (Overcurrent/Multiple Switch) Non compliance 3 Pin Socket Extension.